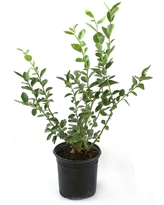 Blueberry Plants for the Home Gardener
When you buy Blueberry plants from DeGrandchamp's, you are buying from professionals. We offer a full line of plants; from early to late varieties; and know first hand what varieties are best for your growing zone. We take great care and pride in growing our plants. All our blueberry plants are container grown for stronger and healthier root systems. The result is a plant that has better first-year growth and quicker fruit production. You can plant with confidence too; because all our plants have been "virus tested" for diseases.
Blueberry Plant Package Offers
For our home gardeners, we offer two (2) different blueberry plant packages: Northern Package USDA Zones 3-4 and Gardeners Package USDA Zones 5-7. Using the map provided below to determine which growing region best fits your area.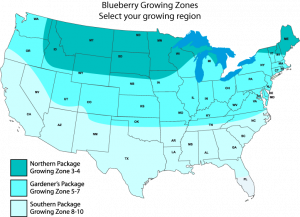 A FREE planting guide will also be included with your order.
To get started choose the appropriate blueberry plant package for your growing zone. We have selected 3 varieties for each growing zone to provide you with an appropriate early-, mid-, and late-variety.
Then decide if you would like a 6, 12, or 24 plant package.
Display 20 Products per page